Want to add sources to the list? Head to our website DiverseSources.org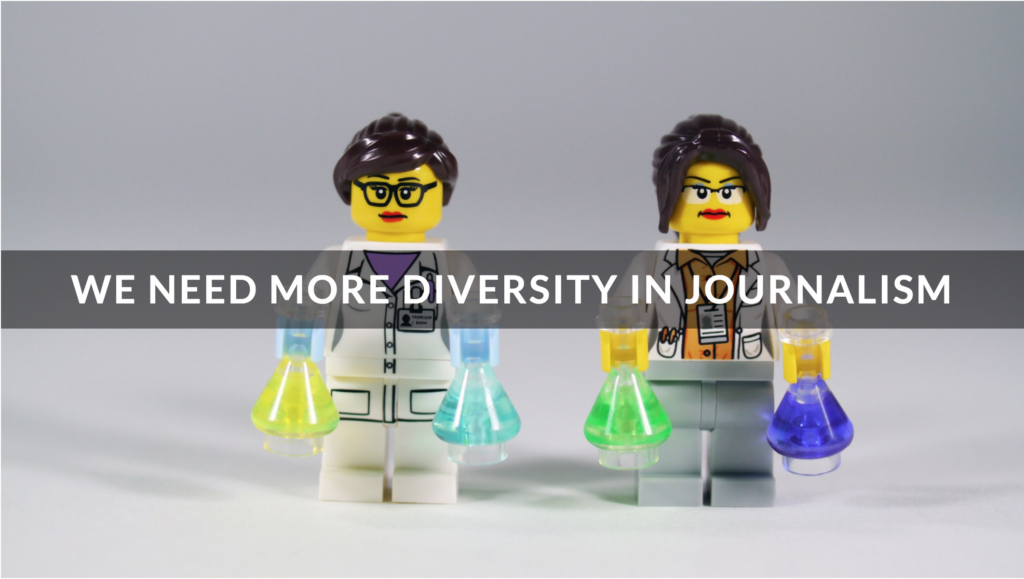 Project
Database to Increase Diversity in Science Reporting
Want to get involved? Email me at diversesources@gmail.com
Follow us on Twitter @DiverseSources, Instagram @DiverseSources and Facebook https://www.facebook.com/DiverseSources/
Impact Statement
We've created DiverseSources.org, a database of underrepresented experts to address the lack of diverse perspectives cited in science writing. We seek funding to improve the website's usefulness to science communicators, increase source sign-ups and further promote the site.
Mollie started working on this project for her own use after realizing she had written several articles on a tight deadline and only quoted white men. This pattern occurs frequently in science reporting—even for topics such as women's health—and it represents a failure to draw on a broad range of points of view. "Without a diversity of sources, entire stories are missed, and those that do get written can be repetitive and overlook nuances of color, race, class, gender and ethnicity," says Apoorva Mandivilli, Editor-in-Chief at Spectrum. This verified database includes the names, contact information and other relevant details for hundreds of experts who have committed to responding to reporters within 24 hours, making it easier for science communicators to reach out to underrepresented scientists for more varied perspectives on their daily stories. By increasing the diversity of sources in our stories, we improve the quality of coverage and more accurately represent science as the diverse enterprise that it is.
Project Rationale
Women make up roughly half the national workforce and they earn more degrees than their male counterparts, and yet, they're still not represented in the top positions in STEM. In fact, in 2011, women made up just 26 percent of the science workforce. Blacks, Hispanics and Native Americans made up only 6 percent of the science workforce.
That lack of representation unfortunately bleeds into science reporting. About 14 percent of science and health stories focus on women, and only 19 percent of experts quoted are women, according to the Global Media Monitoring Project (GMMP) and Christina Selby in The Open Notebook. In fact, the project found that "only 26 percent of the people in Internet news stories and media news tweets combined are women."
"People of color are likewise poorly represented in the news media, including in science stories," according to Selby. 'Whenever communities [of color] interact with science in the news, it's rarely positive,' says biologist Danielle Lee. It creates a narrative, Lee adds, that 'our participation is rare or special'—when in fact, 'there's plenty of us out there.'"
So what can be done? We want to help science writers better weave underrepresented experts into their stories. Instead of only showing up on one or two niche sites, we want diverse researchers, doctors and academics to be included in news stories across all publications. The more people who read quotes from diverse sources, the more effectively we can reflect our audience and inspire expanded diversity in science, math, technology and engineering.
This database is important because science writers often claim they can't find diverse sources on deadline. By making underrepresented sources easy to access, we eliminate that excuse.
Project Description
We created DiverseSources.org to address the lack of diverse perspectives in science writing. The database includes underrepresented experts—including but not limited to appearance, ethnicity, gender expression, gender identity, language, mental health experience, nationality, physical abilities, race, religion, sex, sexual orientation, etc. We're collecting the following information: prefix, pronoun, name, type of expert, title, organization, website, expertise, email address, primary phone number, Skype handle, Twitter handle, languages spoken, time zone, city, state and country. If experts feel comfortable disclosing why they are underrepresented, we also collect this information. However, to protect our members from potential harassment, it is optional.
After a source sign-up form has been submitted, the system sends the person an email to review and approval the entry. This is important because it ensures that only sources who want to chat with reporters, and who will do so promptly, make it onto the list. It also helps avoid third-parties from submitting sources who don't want to be included.
This resource is especially valuable to reporters who cover breaking news, but even those working on features who have a hard time finding diverse sources will find it usefull. It's also a beneficial tool for PIOs who want to diversify the outside sources they use in their news releases. Plus, as more and more institutions emphasize diversity initiatives, DiverseSources.org provides a service to PIOs who want to build attention around underrepresented experts at their organizations.
As of launching on the first day of WCSJ, we have almost 300 sources who are excited to participate in this database. To populate the site even faster, we have promoted the database to experts and PIOs at WCSJ and the Society for Neuroscience so they can add themselves and others to the site. We have also created a database of Public Information Officers whom we're contacting for expert submissions. The website also has a social media presence on Twitter @DiverseSources, Instagram @DiverseSources and Facebook https://www.facebook.com/DiverseSources/ to increase visibility.
The database, DiverseSources.org, is searchable by expertise, language, location, time zone, etc. to make sure users can more easily narrow down potential sources. Each expert is vetted and verified by Mollie before appearing in the database.
The sustainability of this project is important—a database is only useful for a year or so if it's not updated. Therefore Mollie keeps tabs on all experts. Mollie vets their information via a thorough search of each individual's online profile. If there is any doubt she calls the expert's institution to ensure 100 percent accuracy. She continues to vet contact information daily so no entry is ever out of date.
The database is entirely a volunteer effort. Mollie works on the site daily, after her normal work hours. Greg adds new features on weekends. Others have donated their time to review the site or help with technical guidance such as: Nsikan Akpan, Bethany Brookshire, Kevin Koehler, Terra Hall, Laura Helmuth, Evelyn Lamb, Robin Lloyd, Andrew Nacin, Cindy Ramjeawan and Ashley Smart.
Mollie and Greg seek funding to be able to devote more time to database — to develop a more inclusive expert base and promote the site to science communicators around the world. In the next version, we will also implement a rating system to track how quickly sources respond to requests. The rating scale would allow science communicators to share how quickly a source responses: within 1 hour, within 2 hours, within 6 hours, within 12 hours or within 1 day. We can modify parameters to best serve communicators' needs. We also plan to adding a CAPTCHA to enhance the site and prevent spam entries.
To make sure we're meeting the community's needs and desires, we seek feedback from users. For example, as suggested by Robin Lloyd, with funding we plan to do testing with small groups, getting feedback and iterating.
We've built the site using Django and published the code on GitHub, a site for sharing and collaborating on code-based projects, so it is open-source and available for others who would like to create similar databases for other fields.
Data Dissemination
We will spend a significant amount of time promoting the site via organizations such as NASW, SEJ, SPJ, ONA, etc. We'll also be reaching out to journalists in other countries as well as scientific societies so that they, too, can benefit from this database, which will remain free to access.
Benefits to the Field of Science Writing
As a member of the NASW Diversity Committee, Mollie know's first-hand about the organization's concerted effort to increase minority representation in science writing. This project fits with that goal. It will help science writers more easily and effectively find a broad array of diverse sources to include in their stories. The goal is to help science writers better succeed in their efforts to report on their subject matter more inclusively as well as better represent the fields they cover. It's also a wealth of story ideas, says Carla Bleiker, a science writer at Deutsche Welle. "I love just browsing the site to learn about all the interesting specialities that could inspire a future story," she adds.
This is beneficial for PIOs who want to promote members of their organization, as well as science educators who want to better represent their audience. Furthermore, it will raise awareness of the lack of representation in our sources and remove roadblocks to achieving that representation.
The project is also open-source and available on GitHub. This allows others to replicate the concept in other specialities, such a business or political reporting.
We've already had great feedback from both the science writing community and the scientific community:
"I told some friends of mine about [the database], and one signed up and was just quoted in the Washington Post. Keep doing great work!" -Sally Winkler, Bioengineer
"I spoke with NPR recently, and credit it to DiverseSources. Thanks!" -Liz Redford, Social Psychologist
"Working on an article about the uses of VR and got some help from @DiverseSources on finding a couple good ones." -Andrew Zaleski, Science Freelancer
"I love Diverse Sources. It makes including new voices in my science stories so much easier—even when writing on deadline. And I believe that our stories get better when we don't quote from the same small pool of experts again and again." -Carla Bleiker, Science Writer at Deutsche Welle
It has also come to our attention that an idea for a source database was floated to the NASW executive committee several years ago. While there are other databases of experts like SheSource and now SciLine, DiverseSources.org is much more inclusive. Mollie spoke with the creator of SciLine to learn more about its purpose. It is a database of vetted scientists for journalists who aren't well versed in the sciences but have to cover them anyway. SheSource focuses only on female experts, which misses out on a lot of diverse voices. SheSource is also not specific to science, health and environment journalism. Furthermore, there is no guarantee that they will respond to journalists on deadline—something everyone in our database has committed to.
Created: Dec. 15, 2016
Updated: Dec. 17, 2017